Feels Like Ishq: All About Love, Emotions, Sentiments & Friendships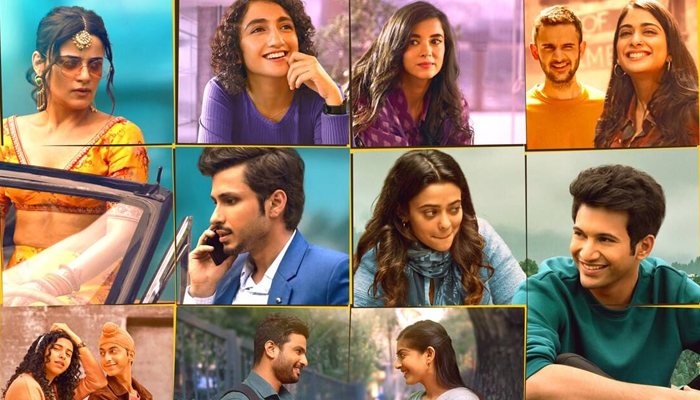 Feels Like Ishq Web Series
Feels Like Ishq is an Indian web series streaming on Netflix India from 23rd July 2021. Furthermore, romantic TV comedies are the culmination of six different short stories. Therefore, Anand Tiwari, Ruchir Arun, Tahira Kashyap, Sachin Kundalkar, Jaydeep Sarkar, and Danish Aslam serve as the directors of the show. Lastly, it is available in both Hindi and English languages.
Story
The plot revolves around six couples. They sail through the sea of emotions while looking out for some romantic connections in strange or unexpected places. Moreover, all the love stories kick starts on a delightful note where everyone enjoys being with each other. However, situations take a sharp turn when it demands a firm stand.
Feels Like Ishq Cast
Radhika Madan
Tanya Maniktala
Anmol Parashar
Neeraj Madhav
Simran Jehani
Kajol Chugh
Sanjeeta Bhattacharya
Skand Thakur
Trailer
Feels Like Ishq All Episodes
Save the Da(y)te
Quaranteen Crush
Star Host
She Lover Me, She Loves Me Not
Interview
Ishq Mastana
Feels Like Ishq Review
Feels Like Ishq is a fascinating show with a series of heartfelt love stories. It displays today's young generation explore new dimensions in their relationships. Furthermore, the script and direction definitely deserve the kudos.  Besides, the super-talented cast of Radhika Madan, Tanya Maniktala, Amol Parashar, Neeraj Madhav, Rohit Saraf,  Simran Jehani, Kajol Chugh, and others play really well. The story is surely relatable as a sweet old-school romance.  It will leave you with a distinctive feeling, a wise smile, and may take you on a nostalgic trip down to your pehla ishq.
Gurjit Kaur is a young and vibrant writer. MBA in media management, she is extremely passionate about the media. Currently, she works as a freelancer and loves to weave words in a simple yet elegant form. She is one crazy aficionado of movies and web series.
Leave a Comment